In this article, I'm going to cover some of the best gift ideas for hockey players.
This article was written with Christmas gifts in mind, but no matter the special occasion (birthday, Christmas, etc) this list of gift ideas will help you find the perfect gift for the hockey player in your life!
Let's get right into it…
1 – Hockey Stick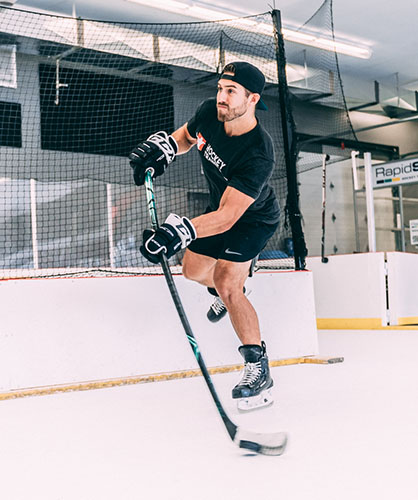 This is an obvious one but it had to be included first on the list because of my fond memories getting a new hockey stick at Christmas as a kid.
A hockey stick always makes a great Christmas gift.
Remember though, depending on the age of the hockey player they may be very picky about the pattern (curve), flex and brand of the hockey stick.
If they aren't picky (or are too young to know the difference) I love the CCM JetSpeed Sticks right now.
Or if you want a bit cheaper of an option and want to support a small business check out the No Name Hockey sticks that performed pretty well in comparison to the top of the line sticks out there.
And, hey, a wrapped up hockey stick isn't fooling anyone – so keep it a surprise and don't put it under the tree until Christmas morning!
2 – Innovative Hockey Bag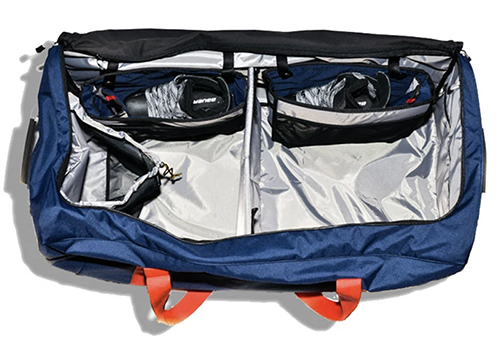 For the first 25+ years of my hockey-playing career, hockey bags were pretty much the same. Just a bag with maybe one or two extra compartments on the side and that was about it.
Nowadays there has been a lot of innovation with hockey bags, and one of the brands that stick out for me is Pacific Rink Hockey.
I have yet to try out their bag personally (as my bag is holding up just fine for now) but from what I've seen they look awesome.
Their bag includes features like a removable wet mesh bag for your gitch, padded skate sleeves so you can ditch skate guards, and hideaway backpack straps for any long haul you have with your bag.
3 – Performance Enhancing Drink For Games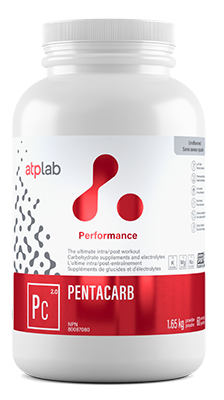 If you've checked out our What To Eat On Hockey Game Days article you already know that a carbohydrate drink can help performance during hockey games (and recovery for the next practice/game).
A high-quality product, such as ATP Labs Pentacarb, would make a great gift for an older hockey player who wants to dial in their game-day nutrition to perform at top levels (my favorite is the Mango + Pineapple flavor).
4 – Shot Enhancer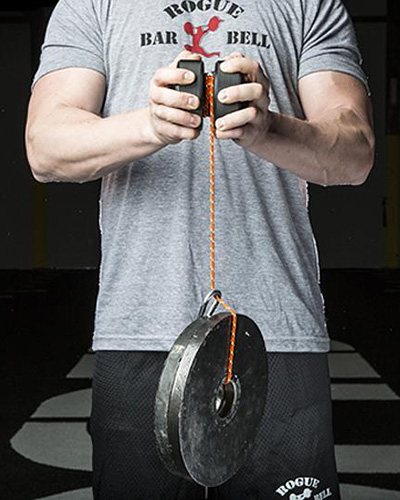 Want to help the hockey player on your Christmas list shoot harder?
Then get them the Twist Yo' Wrist by Rogue. This is a great forearm and grip training tool that will help hockey players work on their shot power, release, and accuracy.
If they are 14+ years old and you really want to help them improve their shot then pair it with our Lighting The Lamp Grip Training Program!
5 – At-Home Skills Training Aids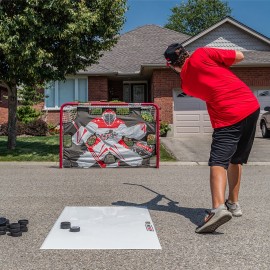 Every hockey player should be doing some training in their spare time at home if they want to improve their skills.
My favorite at-home training aid that would make a great gift would be a stickhandling/shooting pad.
I recommend the Hockey Shot shooting pads that I personally have at home and have used for a number of years with my training.
I would say that the shooting pad is easily the #1 choice for at-home skill work, but if you want more suggestions check out our Hockey Training Aids Guide.
6 – Edge Work Enhancer System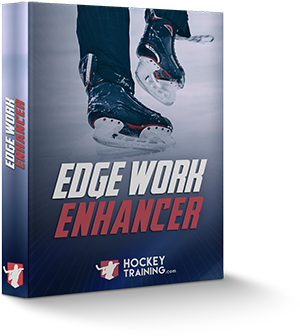 This All-New Edge Work Enhancer System is a must-have training system for any hockey player who wants to upgrade their edge work, skating technique, and speed so they can dominate the ice every game they play.
If that sounds like the hockey player on your list, then you need to pick this up for them here.
Because it's an online membership that they get access to, you can email us after your purchase and let us know it is going to be a Christmas gift. When Christmas rolls around we can set it up so that the hockey player you purchased it for will get access to the member's area and receives all of the additional free gifts included as well!
7 – Motivational Poster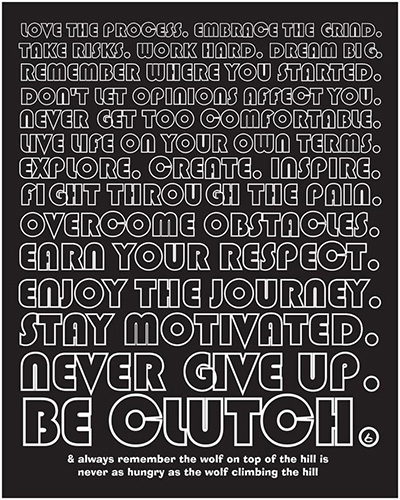 I love this poster created by a buddy of mine who runs a great athletic lifestyle company "BClutch".
If you need motivation as a hockey player put this on your wall and read it daily.
At just $14.99 this poster is a great low-priced Christmas gift for a hockey player, and you are supporting an awesome small business (be sure to check out the great clothing as well)!
8 – Gitch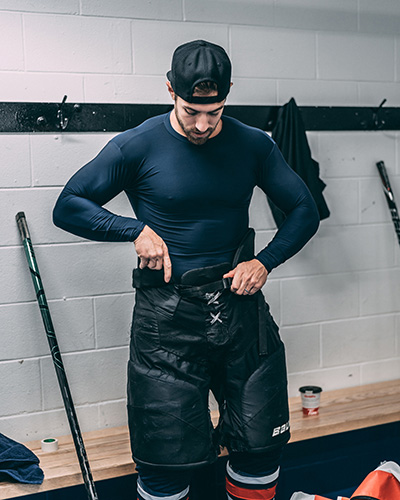 Gitch is basically anything a hockey player wears under their equipment – compression pants, underwear or shirts, socks, etc.
Again, hockey players are usually particular about what they wear under their gear, so for this gift, you are going to need to do a little research by diving into their beautiful smelling bag.
But as a hockey player, I know that I love it when I get a fresh set of gitch.
Not only does the fresh set smell nicer, but it also allows me to not worry about doing laundry as often.
If you have no idea what type of gitch they wear but still want to buy it as a gift, my recommendation is to pick up a pair of skate socks that go on their feet (as opposed to hockey socks for their shin pads).
9 – Hockey Tool Kit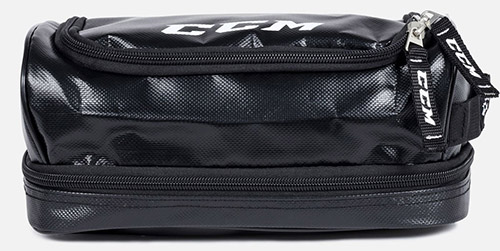 I'm going to be creating a video for our Hockey YouTube Channel showing what's inside my hockey tool kit bag this week, so subscribe to the channel so you don't miss out on that.
But some items that all hockey players would probably love include: small shampoo or body wash bottles (refillable are best), shin pad tape (clear), stick tape (black or white – check their stick), extra skate laces (check their size), small Phillips screwdriver, helmet hardware, deodorant, and shower sandals.
If they don't have a hockey shower/toolkit bag to hold this stuff, that would make for a great gift as well. Most big hockey companies make these bags, or you can just with a cheaper unbranded bag if you're on a budget.
10 – The Hockey Skills Accelerator Membership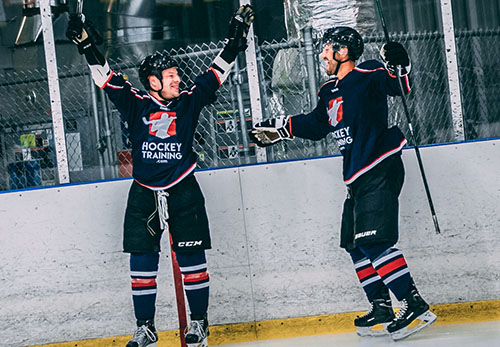 If you're buying for a family member (son/daughter, husband/wife, etc) the perfect gift that will keep on giving is our Hockey Skills Accelerator Membership that we offer at HockeyTraining.com.
This includes access to every training program and system we offer plus a load of bonus videos and gifts that are exclusive to our Skills Accelerator members.
Basically it's the full package to ensure that they have the formula to take their game to an entirely new level and live up to their true potential on the ice!
I won't get into all the details in this Hockey Christmas Gift Guide, but you can learn all about the membership here.
Have A Merry Christmas!
Thanks for reading my 2019 Gift Guide For Hockey Players.
Here's a little bonus recommendation for you…
Christmas is about giving, so consider checking your local area to see if there's anywhere you can donate to families with hockey players who are in need.
I know here in Canada Canadian Tire has a great program called Jumpstart that helps kids have equal access to sports, and I'm sure there are similar programs in your country.
Lastly, I'm sure we will have most articles posted before the New Year, but I also wanted to say thanks for all of your support this past year.
I hope you have a Merry Christmas and Happy Holidays!