‼️ ATTENTION HOCKEY PARENTS ‼️
How Would You Like To Help Your Kid Turn Their Hockey Dreams Into A Reality?
Your Kid's Next Hockey Season Could Be Their Best Season Yet!
Parents...
Imagine watching your kid be the best player on the ice game in and game out...

Wouldn't it be awesome to have other parents complement your kid's hockey skills?...
How great would it feel to see your kid smiling... telling you all about how much fun they have playing hockey?...
If any of this sounds good to you, then follow along with me...
I want to help you to bring all of this to fruition...
But first, let me tell you a little story about myself.
I love the game of hockey.
But my journey in the sport wasn't always a pleasant one.
When I was a young hockey player, I was cut from a team just before the start of playoffs.
My coach pulled me aside after practice one day and said, "We're going to be letting you go"
My heart immediately sank into my stomach.
I can remember walking back towards the locker room...

Teary-eyed and dreading the idea of having to face my teammates.
No words were said by me or anyone in the room as I quickly packed up all of my equipment from my stall...
The awkward silence that hung in the air only further amplified my feelings of humiliation, sadness, and disbelief.
Deep down I knew I loved hockey, but on days like this, I wasn't having any fun at all...
I left the rink that day never wanting to feel that way again...
So, I decided that I was going to make some changes so that I wouldn't have to.
I had been training on my own up until that point...
But I didn't have any guidance, no real plan...
I knew that I had to do something different if I wanted to see different results.
That's what led to me meeting a true hockey-performance coach, who helped change everything for me.
His name... Coach Dan Garner (and he is now our head Hockey Performance Specialist here at HockeyTraining.com)
Dan showed me what a REAL hockey training program should look like...
And within a few weeks of following his system, my game improved dramatically!
I was blowing by defenders with ease, I felt stronger on the puck, and while everyone on the ice felt heavy in the 3rd period, I still had the same jump as I did in the 1st.
I was amazed at the progress I had made and I'd never been more confident in myself as a player!
And that's when I thought to myself...
"Why haven't I trained like this my whole hockey career?"
"What have I been leaving on the table this whole time?"
"Where would I be right now if I had taken training more seriously?"
My biggest regret in hockey is that I never reached my full potential.
By the time I understood just how beneficial off-ice training could be, it was too late for me.
I never achieved the hockey dreams that I had for myself...
And that's why I started HockeyTraining.com...
To help as many players as I can become the best versions of themselves and avoid making the same mistakes that I did.
And one of the biggest mistakes I made was not training during the in-season.
In-Season Training Is Critical To Your Kid's Hockey Success
When most hockey players think of dryland training, they generally think of what they do in the off-season (a.k.a. 'gains' season 💪)
And why wouldn't they?
That's the prime time to get bigger, faster, and stronger.
But many players tend to overlook the importance of training during the season...
And those players are sabotaging themselves...
Because the 'gains' that your kid acquires in the off-season…
They're not permanent...
They slowly begin to wither away without at least some form of professionally structured training.
In other words, if your kid doesn't train during the season, they are only getting slower, weaker, and won't be making big improvements year after year.
For this reason, it's absolutely critical for your kid to not train for just 4 months out of the year...
Their training needs to be consistent YEAR-ROUND...
That means off-season and in-season training should be given an equal amount of thought and attention.
Now, here's the thing...
An Effective In-Season Program Is All About Balance
Think of it this way...
A well-balanced diet is vital to your kid's overall health…
Ideally, it would include an appropriate amount of protein, carbohydrates, and healthy fats.
Similarly, a well-balanced in-season program is vital to your kid's overall hockey performance...
It includes an appropriate amount of on-ice training, off-ice training, and recovery.
With this in mind, Coach Dan has put together a complete in-season training program specifically designed to maintain and even enhance...
✅ Speed And Explosiveness
✅ Functional Hockey Strength
✅ Shot Power And Accuracy
✅ Coordination And Balance
✅ Hockey-Specific Conditioning
✅ Skating Technique And Edge Work
✅ Confidence (On And Off The Ice!)
✅ Their Ultimate Hockey Potential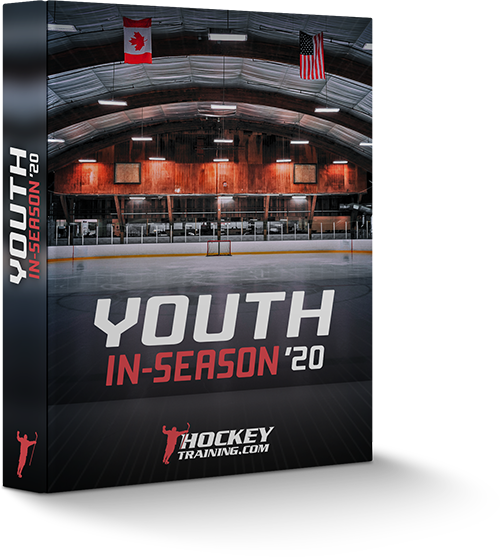 Our Most Cutting-Edge Program To Date!
Featuring the All-New OPT6 Peak Performance System

Our #1 priority during the hockey season is focused on producing immediate and noticeable improvements in the quality of your kid's on-ice performance...
After all, and I think you'll agree, what good is an off-ice training program if it inhibits your kid's ability to play well?
The OPT6 Peak Performance System backed by the latest knowledge in sports performance and aims to provide your kid with the necessary amount of training stimulus needed to improve upon their strength and explosiveness without overtaxing the nervous system during the hockey season.
Here's how it works...
The 6-Phase system is divided into 3 separate training blocks.
Each block utilizes a different training methodology to ensure that your kid is always one-upping the competition. The variety also keeps things fun and engaging so that your kid is always motivated to keep improving their game.
And the best part is… they won't need a gym membership or any fancy equipment…
Because the all-new Youth In-Season '20 dryland training system is a bodyweight ONLY program!
BLOCK 1: NP3 Method
Tri-plex training

Designed to elicit a strong training stimulus while preventing "hockey burnout"

Targets specific muscle groups that are essential to on-ice performance
BLOCK 2: SC-Hybrid System
Antagonistic density training

Utilizes "time" as a variable to expedite progression

Trains both strength and explosive conditioning levels simultaneously
BLOCK 3: EXHIT Circuits
High-intensity hockey performance circuits

Develop explosive speed + conditioning

Fast-paced and time-efficient = perfect way to accomplish a lot in a limited amount of time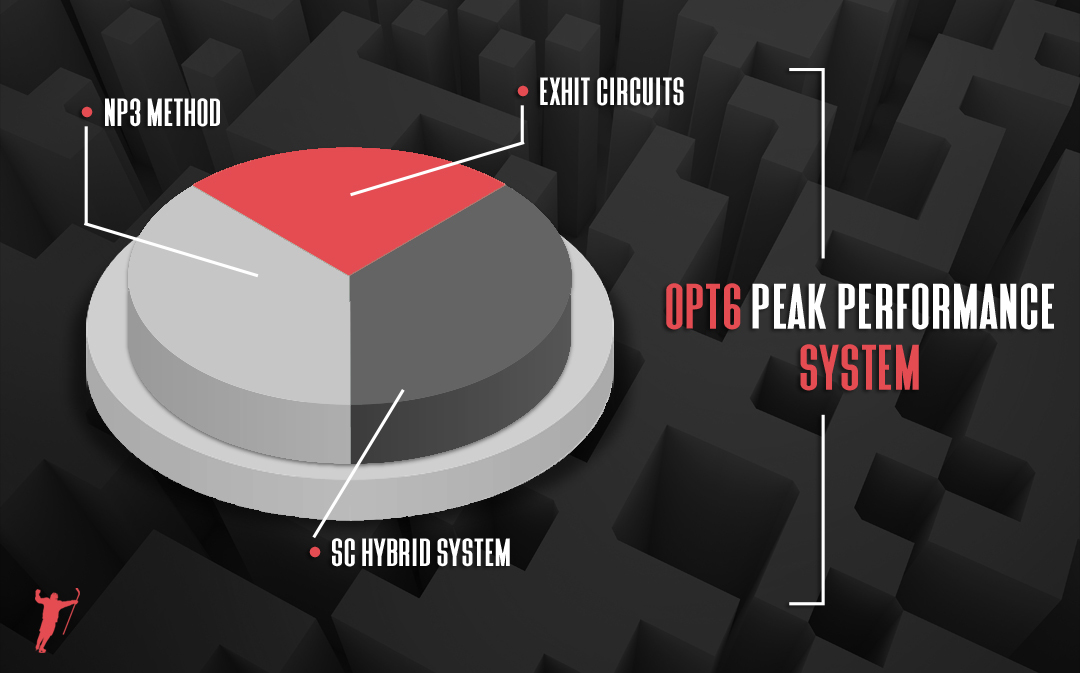 Give Your Kid The Tools To Become An "All-Around" Player
Hockey is arguably the most difficult sport to train for…
Because hockey players have to be strong and have great balance to win puck battles…
Fast and explosive to create space and blow past defenders…
And conditioned to play at full speed for 1-2 hours.
Coach Dan is well aware of this fact…
Which is why his programs are more than just an assembly of random exercises.
Youth In-Season '20 is designed to develop "complete" hockey athletes, capable of excelling in all areas of the game.
Here's what you can expect to see your hockey player improve in...
⚡ + 💥 SPEED AND EXPLOSIVENESS
➡ Skate by defenders and create more scoring chances
➡ Win more races to loose pucks
➡ Catch up to the opposition and create more turnovers
💪 STRENGTH
➡ Win more puck battles in the corner
➡ Give and receive harder passes
➡ Score more goals in the "dirty" area in front of the net
💓 CONDITIONING
➡ Have the same amount of "jump" throughout all three periods
➡ Recover faster on the bench in between shifts
➡ Sustain explosiveness for longer durations during play
🔪 EDGE WORK
➡ Make tighter turns to create more time and space
➡ Have better body control and enhance deceptiveness
➡ Create more speed using less effort
🏒SHOT POWER + ACCURACY
➡ Generate more "torque" to shoot harder
➡ Easily pick corners and expose goalies' weak spots
➡ Quicker release to catch the opposition off guard
🧠 HOCKEY IQ
➡ Become patient with the puck
➡ Take your offensive and defensive awareness to the next level
➡ Predict your opponent's every move
😎 CONFIDENCE
➡ Play fearlessly
➡ Feed off of positive energy and set an example for other teammates to follow
➡ Create a positive self-image that will carry over into other areas of life
Other Hockey Players Just Like Your Kid Are Seeing Their Hockey Dreams Come True!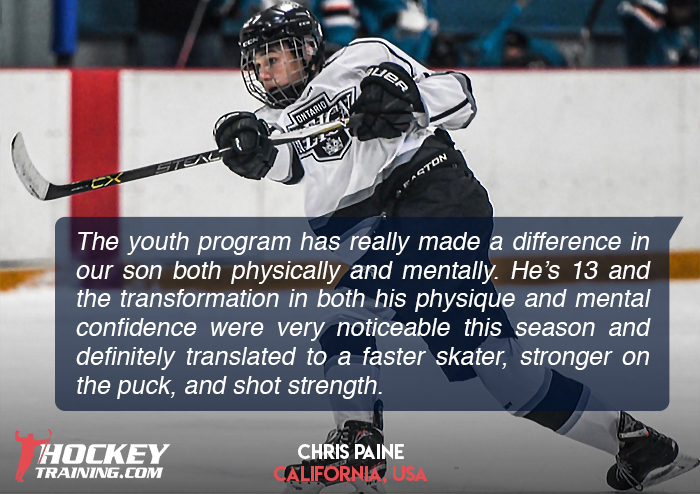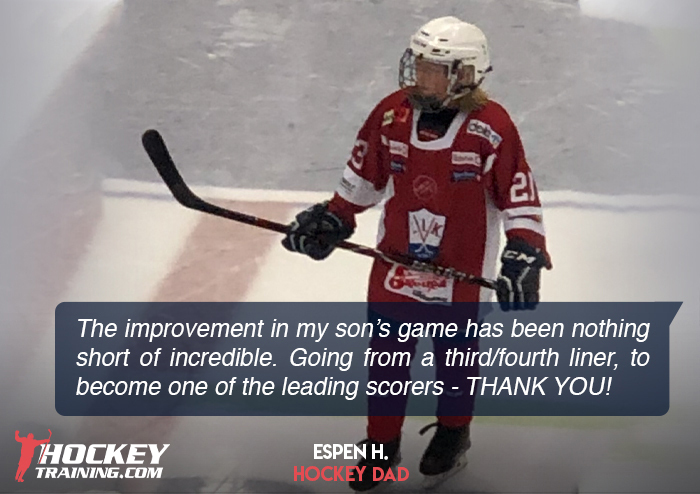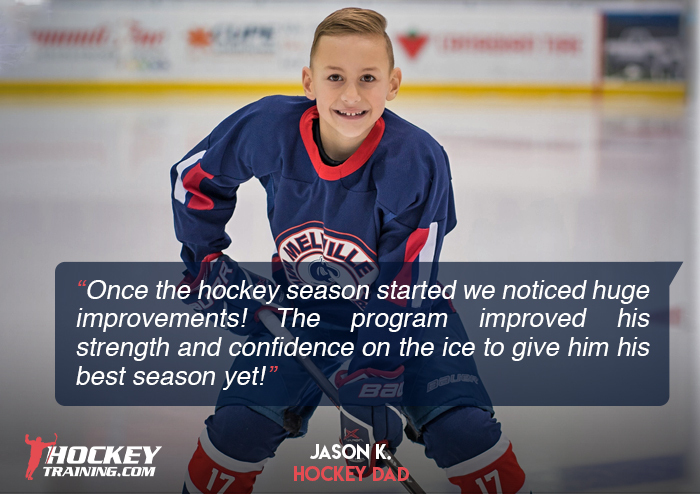 Now You Too Can Help Your Kid Take Their Game To The Next Level Faster Than You Ever Imagined Possible!
6-Phases Of Youth-Specific In-Season Hockey Training Utilizing The New

OPT6 Peak Performance System™

- To Ensure They Become Faster, More Explosive, And Ready To Dominate All Season Long


Professionally Designed - By A High-Level Hockey Performance Specialist Who Has Worked With Thousands Of Youth Athletes


Easy To Follow - With Full Video Demonstrations Of Each Exercise So Your Kid Knows Exactly How To Do Them


Simple To Access - Our Online Member's Area Will Allow You To View The Workouts On Your Phone/Computer/Tablet - Whatever You Choose!


Printable - Allowing You To Print The Workout Sheets Off If You Choose


Guaranteed To Make This Season Your Kid's Best Hockey Season Ever!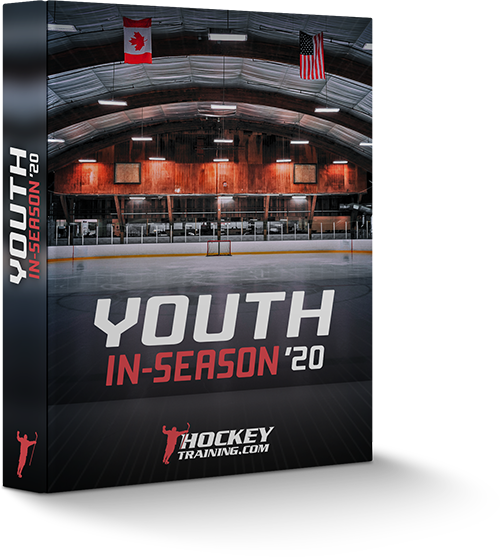 This Is Your Opportunity To Help Your Kid Become The Hockey Player They've Always Dreamed Of Being
As a parent, we know that you want nothing more than to see your kid have fun and succeed...
(You wouldn't be reading this right now if you didn't).
That's why you drive your kid to the rink three to four days a week...
Watch their games from a freezing cold bench...
And buy them that $200 stick...
You invest your time, energy, and money into your child's happiness.
That's exactly what you're getting here.
You're not just buying a product...
You're investing in your kid's self-confidence and all-around hockey performance.
I want to help you get the highest return on your investment.
It's my passion to help players achieve their hockey dreams.
And that's why I want to make this an affordable offer for all hockey parents.
Usually, a fully comprehensive hockey-specific training program like this would cost you thousands of dollars.
Hiring a personal trainer likely wouldn't be any cheaper.
An average-joe trainer might charge anywhere between $2,000-$4,000...
And a good one like Dan, who works 1-on-1 with NHLers, could cost as much as $6,000+!
But, when you join the brand new Youth In-Season '20 dryland training system, you won't be paying even half of that amount...
I'm offering you this professionally designed, hockey performance enhancement program for the minuscule price of... Just $247!
**FLASH SALE -- Now Just $197 For A Limited Time!!**
That's right... just one hundred and ninety-seven dollars for a full in-season hockey training system designed to enhance your kid's performance!
This is an offer that I guarantee you won't find anywhere else.
I promise, no other program is more comprehensive and well-thought-out than what you're looking at right now.
You have a decision to make... a decision that could change the course of your kid's hockey career...
You can either..
Forget about everything you've read about here…
And deny your kid an opportunity to learn, grow, and train like the hockey player they've always wanted to be...
Or…
You can click the button now…
And give your kid the key to manifesting their hockey dreams!
And in order to make this decision a no-brainer for you…
I've decided to give you a bonus…
4 of them, actually…
With your purchase of Youth In-Season '20, you'll also receive 4 additional hockey performance gifts absolutely FREE! 🎉
4 Fast Action Bonuses When You Join Youth In-Season '20 TODAY ($572 Value) Absolutely FREE!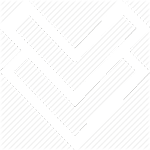 FREE Gift #1: Add-On Performance Enhancers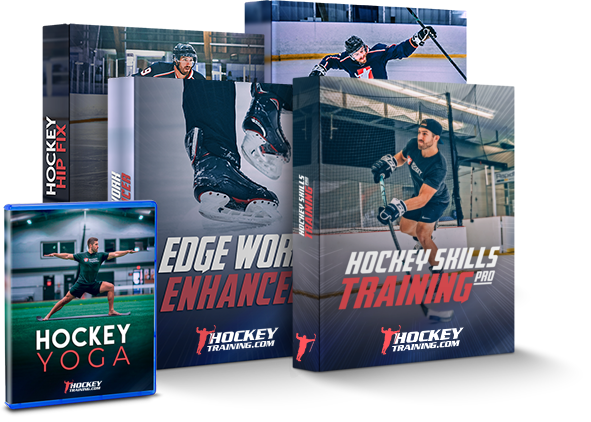 ➜ Full access to 5 "add-on" programs that can be used as extra training to further enhance the results and bring up any lagging areas in your kid's game

➜ Edge Work Enhancer, Hockey Hip Fix, Hockey Yoga, Skills Training Pro, and Playoff Enhancer Formula will all be available to you in the member's area at no extra charge
➜ Lifetime access means your kid can use these programs in the off-season too (and for years to come)!
➜ Regularly $367 - but included FREE with Youth In-Season '20 when you join today!
FREE Gift #2: Bulletproof Hockey Mindset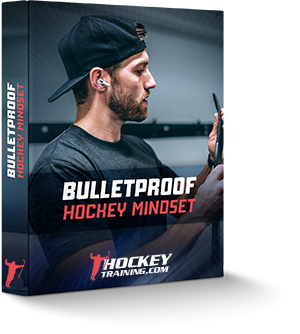 Your kid will learn how to...
➜ Build confidence using "follow along" visualization audio tracks
➜ Relieve any pressure or anxious feelings before a big game so that they can perform at their best without getting in their own head
➜ Stay motivated and ready to play with our position-specific visualization techniques, similar to what NHL players use
➜ Regularly $59 - but included FREE with Youth In-Season '20 when you join today!
FREE Gift #3: Youth Hockey Nutrition Package
➜ Nutrition "hacks" to help keep your kid healthy and fueled without force-feeding them bland foods that they hate
➜ Advice for hockey parents who struggle to get their kid to eat healthy foods and how you can create a win-win situation
➜ Tips to help your kid develop positive nutritional habits that will set them up for a healthy future
➜ Regularly $49 - but included FREE with Youth In-Season '20 when you join today!
FREE Gift #4: Accelerated Results Package
➜ Achieve faster improvements on the ice with our Accelerated Results Package (Hockey Meal and Smoothie Recipe Guides, Grocery List, Goal Setting Guide, and More)
➜ Keep your kid healthy and ready to perform at an elite level by using the hockey-specific nutrition quick access guides that all hockey parents need to have if they want to help their kid play to the best of their abilities
➜ Regularly $97 - but included FREE with Youth In-Season '20 when you join today!
Make the investment toward helping your kid become a better hockey player today and lock in your discounted price by clicking the button below…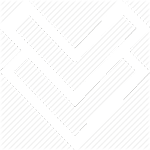 100% Satisfaction Triple Guarantee
To make your decision as easy as possible today… and to give you complete peace of mind purchasing the Youth In-Season '20 Program, I want to offer you a 60-day 100% money-back triple guarantee.
If you don't notice a big improvement on the ice with your kid… If your kid doesn't start scoring more goals and helping their team win more games… Or even if they just don't enjoy the training...
If for any reason you aren't 100% satisfied with the Youth In-Season '20 System, just email me and let me know. I'll refund your full payment without question or any hard feelings.
That's how confident we are that you will absolutely love the system and unlock amazing results on the ice for your kid.
So let's get you started now! Click the button below to get instant access to the Youth In-Season '20 Program!
Frequently Asked Questions...
Q. What Equipment Do I Need Access To For The Training?
None! This bodyweight program does not require any equipment at all and is perfect for kids to follow along from home.
Q. What Age Group Is This Program For?
Youth players ages 8-14. This program was specifically designed for younger athletes. We also provide guides in our member's area so parents can be sure that their kid is training safely.
Q. Is The Training Safe For Youth Athletes?
Yes, we've designed this program using exercises that are age-appropriate for youth players.
The scientific literature on the topic has demonstrated that, provided the program is made by a professional and that the technique is being supervised to ensure the movements are being performed properly, training is safe for young athletes.
If you'd like to learn more on the topic we've written an article titled "Is Hockey Training Safe For Youth Players" that you can check out.
Q. How Many Weeks Is The In-Season System?
It was designed for up to 6 months of in-season training but is customizable for anywhere between 1 and 8 months. We show you exactly how to schedule your in-season training no matter how many months or weeks you have left in your season!
Q. What If The COVID-19 Regulations Interrupt My In-Season Scheduling?
This is something we have carefully prepared for this year.
In the member's area, you will find very simple to follow scheduling options so that no matter what life throws at us this year you will always feel "in control" and confident that you are becoming a better hockey player.
And since this program includes a bodyweight-only version, you can safely perform the entire system within the confines of your living room!
Q. Will I Receive Anything In The Mail?
Nope. This program is 100% online in our member's area. Fortunately, we are able to offer completely digital programs using today's internet technology, which has kept costs at a fraction of what they would be otherwise.
Once you have signed up you will create a username and sign into the member's area. From there you can access and download all of the program's material.
Q. Can't My Kid Just Do The Workouts You Posted on YouTube?
While the workouts we posted on YouTube and our website are great for hockey players, you will see much better improvements if you are following a professionally designed hockey-specific program.
There is a big difference between workouts and a program.
A workout is great and will help, but it's when you combine workouts in a special process (using periodization techniques) that will turn those workouts into an actual hockey-specific program that will provide massive results out on the ice.
If you are serious about improving on-ice performance we highly recommend using this program that utilizes our new OPT6 Peak Performance System over just randomly selecting hockey workouts.
Q. How Long Will It Take To See Results?
Usually within just a few weeks! Of course, every player is different and results may vary, but we've seen many of our players make big improvements in just 3-6 weeks.
Q. What If We Aren't Happy With The Program or Results?
We offer a 100% satisfaction guarantee. We are very confident you will love the Youth In-Season '20 hockey training program and see big improvements on the ice, but if for any reason you aren't satisfied you can contact us within 60 days for a full refund.
Simply contact us through our blue live chat bubble on our website or email and we will cancel your account and provide you with a refund.
Q. Alright, I'm Ready! How Do I Get Signed Up?
Awesome, I'm excited to have you on the Hockey Training team and can't wait to see the success your kid will achieve this season!
All you need to do is click the blue button below and fill out your details. Once that's complete you will receive an email receipt and a welcome email which will both have instructions for getting signed up for the member's area.
I'll see ya on the inside!
Still Not Sure If This Is Right For Your Kid?
Here's What Other Hockey Parents Have Had To Say
Note: Our programs are provided in our online member's area. No physical products will be shipped. After you order, you will get INSTANT ACCESS to download the product guides onto your computer (no waiting or shipping costs). The format for all manuals, workbooks, and checklists, is adobe acrobat PDF, which can be viewed on Mac or PC, and even most mobile phones. Prices are listed in USD, but on checkout will be converted to your country's currency.
ClickBank is the retailer of products on this site. CLICKBANK® is a registered trademark of Click Sales Inc., a Delaware corporation located at 1444 S. Entertainment Ave., Suite 410 Boise, ID 83709, USA and used by permission. ClickBank's role as retailer does not constitute an endorsement, approval or review of these products or any claim, statement or opinion used in promotion of these products.
Copyright © Hockey Training